Experience our Surf and Adventure Resort Vacations in Costa Rica
Choose one of our all-inclusive vacation packages
Costa Rica Surfing Company offers incredible adventure tours with our surf vacation packages. Experience exciting adventures including zip-line, volcano and waterfall hike, sunset sailing, deep sea fishing, ATV ride and surf lessons. Our all-inclusive vacation packages include luxury resort condos, adventure activities, chauffeured transportation, private chef, personal hosts and a surf photographer. Choose one of our all-inclusive surf and adventure vacation packages or create your dream vacation with our custom form. Escape to a place like no other and relax as our personal guests in tropical Costa Rica!
The perfect blend of surf and adventure, our most popular resort vacation package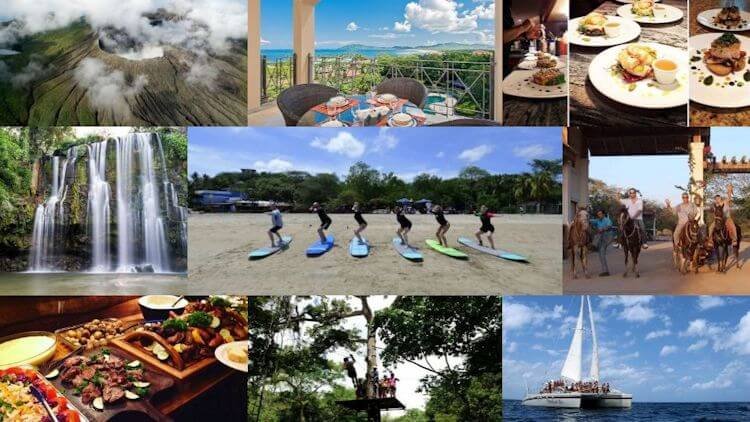 Our most popular surf and adventure vacation package includes seven nights in a luxury resort style condo. Relax while our private chef prepares three course gourmet dinners for 4 nights. Learn to surf the waves with 6 private surf lessons and personal photographer. A volcano and waterfall adventure tour with guide, chauffeur and lunch. Catamaran sunset sailing tour with snorkeling and snacks. An afternoon at a ranch with horseback riding,  zip-line and a BBQ dinner. Luxury resort condo with a full kitchen stocked with groceries for your stay. Surf and adventure vacation package includes transportation to all activities and private round-trip transfers to Liberia Airport. English speaking concierge and host for a stress free vacation.
Luxury resort condos or beachfront penthouses included with all vacations
Resort Condos – Located in the center of Tamarindo and a short 2 minute walk to the beach, restaurants and shops. Choose a 2, 3 or 4 bedroom resort condo with an ocean view balcony. Resort amenities include a 10,000 sq ft lagoon style pool, Jacuzzi and swim up bar.
Beachfront Penthouses – Located direct beachfront on a secluded beach and one mile from Tamarindo. Three bedrooms, 3 baths and 5,000 sq ft of pure luxury with two levels, balcony with hot tub and a swimming pool.
Relax in your home away from home with spacious living rooms, private bedrooms and a gourmet kitchen stocked with groceries upon arrival. Luxury condos also feature ocean view balconies, flat screen TV's, washer, dryer, safes and housekeeping service twice per week.
Costa Rica Surfing Company specializes in private, all-inclusive surf and adventure vacation packages. From the moment you contact us by phone or email you will be communicating directly with the owners. Russell and Stephanie, your English speaking hosts, personally arrange every aspect of your vacation to suit your needs. Private surf lessons, luxury condos and private chef services are what sets us apart. Experience a stress free vacation as our personal guests in Costa Rica!
The Ultimate Custom Vacations
Create Your Custom Vacations
We offer a special form to allow you to create your dream vacation package.
We  look forward to receiving your vacation request and sending you a custom quote soon.
Just Click On the Button Below To Start!
What makes Costa Rica the best destination for a surf and adventure vacation?
Costa Rica is known throughout the surfing world as having some of the most consistent surf breaks on the planet! The tropical warm waters of Costa Rica draw people from around the world to escape their wet suits and relax in our inviting ocean. Sandy bottom beach breaks, less crowds and safe waters are more enticing reasons to make Costa Rica your next surf vacation destination. The beaches of Costa Rica feature year-round waves caused by the unique shape of the country's Pacific coastline, catching swells from several different directions. Most people would agree that the best attribute of Costa Rica are the local people that love to share their "no stress" culture and world-class waves! Plan your escape to the warm tropical waves of Costa Rica and relax with one of our custom adventure vacation packages in Surfer's Paradise! 
As with every review you will read below, this trip was beyond our expectations and an adventure that we will never forget. Russell is professional, knowledgeable, patient and kind. He works with the best surf instructors on the beach and runs a first class operation all the way around. The accommodations (he did the grocery shopping as well), the activities, the advise and careful planning....all made for an amazing trip. This is a unique surfing school operation that offers so much more that the others in the area. Russell's hand on approach is the difference. We were able to customize every aspect of our trip. The photos of our surf lessons are awesome! The people of Tamarindo are hard working and proud and while the culture is laid back and simple, the service is prompt and professional. I hope that we are able to find out way back to Tamarindo as it is a trip worth repeating!! Thank you Russell and our best to Marteen and Chris!
Beyond our expectations in every way imaginable. This was my family's first trip to Costa Rica. 2 adults and 4 teenagers. Not knowing where to begin I did my initial web search. The information or lack of was confusing and overwhelming. After reading the reviews on trip advisor I contacted Russell the owner of Costa Rica Surfing Company. We are frequent travelers and must admit our expectations were pretty high. I discussed with Russell our preferences for accommodations, meals and activities. I was almost skeptical because the process was so easy. Every driver was on time. Every vendor (fishing, catamaran, spa, horseback riding, ATV tour, waterfalls, zip-lining, surfing instructor) was beyond professional, on-time, welcoming and went above and beyond to welcome us to their country and make sure we had a great time. READ MORE ON TRIPADVISOR LINK BELOW
Traveling with 12 people (including 6 kids ages 2-9) can be difficult in many ways. However, with Russell as our guide, it could not have been easier or more enjoyable. Russell was always there to ensure things went smoothly and our experience was the best. He took the work out of organizing the logistics and allowed us to just focus on having fun! We are already excited to go back again and would hand's down use Costa Rica Surfing Company to plan it again!!
During the 11 months of planning our Costa Rica adventure, Russell was there...patiently answering questions, providing information, adjusting details, and just making sure that I was comfortable with every aspect of our vacation. By the time we arrived at the condo, Russell and Stephanie were there, as promised, patiently awaiting our arrival to settle us into our condo. They were warm and inviting and felt like old friends! The condo was gorgeous, with a kitchen that was not only stocked with all of the foods that had been previously discussed, but Stephanie actually displays the items so it feels more like home. The view from the condo was breathtaking. And we had all the amenities to make our stay more comfortable. READ MORE ON TRIPADVISOR LINK BELOW
Everything I could have imagined for my family's first trip to Costa Rica! The place was a dream to stay in- Breathtaking views (even from the shower), comfortable and luxurious! The personal chefs created amazing, dishes with fresh foods and outstanding flavor and presentation. The tours were so personal and serine- From the waterfalls, to the horseback riding and zip lining. Russell was an amazing surf coach for not only me but my six and four year old as well! Everyone was on time, professional and best of all, super friendly and accommodating! Just got back, and we're already planning our next trip with them! Thanks Costa Rica Surfing Company!
Our family of ten enjoy adventure vacations and experiencing local culture and foods. Russell and Stephanie are experts and organized an itinerary that included everything we wanted in a perfect vacation. The condo was fabulous with all amenities anyone could require. We spent spare time relaxing on the deck, listening and watching the ocean, which changed each day. Great way to enjoy a morning cup of coffee or relax with a glass of wine in the evening. Absolutely, picture perfect. A 40 minute walk along the beach (timed with low tide) took us into Tamarindo. We visited shops, restaurants and relaxed on the beach. With Russell's expertise, seven of our group learned how to surf, and they are looking forward to using their new found skills. Russell and Stephanie arranged tours/excursions for Volcano and Waterfall (a must see). Catamaran Coastal Tour - so relaxing, great food and the crew so much fun. READ MORE ON TRIPADVISOR LINK BELOW
The trip was awesome. Russell and Steph do an wonderful job. The condo was nicer than it looked on-line (hard to believe) and Chef Roi was excellent. Surfing instruction was great. Stephanie's photos of the trip helped keep the memories. We will be back! Highlights included the sunset cruise where we saw two whales and a baby. Also seeing spider monkeys at the volcano trip was memorable.
My wife and I chose to use Costa Rica Surfing Company for our Surf/Yoga vacation in Tamarindo. When it seemed that our trip might be derailed at the start due to airline issue, Russell and Stephanie came through in spades! They managed to juggle our itinerary at the last minute allowing us to arrive and depart a day later than planned. What a relief to know that we had such experts working for us in Tamarindo. During our stay the excursions and arrangements made on our behalf by Russell and Stephanie were absolutely first class. The accommodations were beautiful, Chef Juan was amazing, and my wife could not have had a better surf instructor than Russell. I was also struggling with my surfing after a long hiatus (4 years), but by the end of the week, Russell had me confidently dropping into over shoulder height waves. He's literally given the joy of surfing back to me, and I couldn't be more thankful for that. READ MORE ON TRIPADVISOR LINK BELOW
As a long-term adventurer, I've always created and managed my own trips as it's been my experience that most trip-service companies tend to either error on the side of over-activity or the direct opposite. Russell and Stephanie are masters of the art of balancing leisure and activity creating a beautiful vacation. From the very first communications to me writing this review, CRSC has proven to be a customer-centric company with a very friendly and comfortable air. Russell, owner/operator, provides easy-to-understand/easy-to-apply surf instruction that makes surfing fun for all ability levels. His passion for surfing, Costa Rica and for life in general is contagious and genuine. In addition, his company provides a myriad of other excursions that are not only worth the money but are amazing experiences that will last a lifetime. If you're considering visiting Costa Rica then please give Russell a call. I guarantee that you'll be back on this website afterwards singing CRSC your praises.
A friend and I had the pleasure of spending nine days in Tamarindo, Costa Rica. We booked our vacation through Costa Rica Surfing Company several months prior to our visit. From the first call to the last day of the vacation, the trip could not have been planned better or gone smoother. Doing research regarding the best places to learn to surf, I stumbled across Costa Rica Surfing Companies website. After exchanging a few emails with Russell Hermance, one of the owner/operators of the company, we had a phone call to discuss the different vacation packages CRSC offered. Not only does CRSC offer lodging and surfing lessons they also offer other adventures you can add to your itinerary. Russell was very knowledgeable and patient as I customized our vacation package. After learning the options we had to choose from I selected 12 hours of surf lessons, an estuary river kayak, volcano/waterfall hike and a spa day. READ MORE ON TRIPADVISOR LINK BELOW
First of all, this is the most active and fun vacation my family and I have been on. Why? Because Russell and Stephanie at CRSC choreographed a trip that was void of worry and hesitation and full of care, fun, relaxation, and exploration. This was an all-inclusive vacation like no other. From the word go, CRSC took the time to speak with us talk about their services and walk us through the planning. They made it very easy. Within a couple of days of back and forth on activities, the vacation was set. Russell emailed an itinerary with each day planned; surf lessons, horseback riding, zip lines, dinners, and explorations scattered through the week. READ MORE ON TRIPADVISOR LINK BELOW
Costa Rica Surfing Company delivered an outstanding stay for us at Langosta Beach near Tamarindo, Costa Rica. Russell and Stephanie Hermance provided a spacious, high-end accomodation (with a superb ocean view), great food, transportation and catered to the mutli-activity capabilities of each person in our group. They took care of everything: beginner surf lessons, zip-lining, dining and deep sea fishing, as well as a wiildlife tour at Rincon de la Vieja volcano. This was the most action-packed and yet smoothest trip we have ever taken.
Whether experienced surfers or a family looking to try something new, if you do not know Costa Rica, The Costa Rica Surfing Company is the only way to go. Russell and Stephanie are like two old friends that you haven't seen in years, rather than some tour/camp group. Although relaxed and personal, their professionalism is not compromised even a bit. They not only created the perfect itinerary for us - accommodations, surfing, excursions, restaurants, personal chef (awesome), but made sure we did not need to expel one effort in figuring out how to get anywhere. Russell and Stephanie not only helped us to create unbelievable memories for my 50th birthday, but they also were sincerely part of them.
Trying to make plans for a family of seven to a country you've never been to is not easy.....Russell did all the leg work for me to make my planing easy.....we had surfers and non surfers with us so we had Russell set us up with a house ...food .....and several great adventures during the week...he hooked us up with great people and the trip could not have been better.....he was available for questions while we were there and took care of any problems.....highly recommended ....
russel and stephanie were great. I wasn't sure what to expect, and the two of them blew all expectations out of the water. They helped to make this one of our best vacations we've had. From the villa to the surfing and yoga, I couldn't be happier. I hate taking trips where we have itineraries; this was not like that. Russel and Stephanie helped to plan out our week but allowed us all the flexibility you could want. We couldn't be happier!
Costa Rica Surfing Company is the only way to visit Costa Rica in my opinion. I can't imagine having to discover the wonderful places we were able to visit on our own. In addition to being a fabulous surfing instructor to me and my family, Russell took the time know our tastes and needs and recommended restaurants and activities that were perfect. The zip-lining guides (Miss Sky) were so great with my kids! They really made it so fun for them (and us!) Our massages were superb, and Russell took us to a waterfall that I am sure very few tour guides know about. The accommodations were excellent too. I really can't say enough. I really hope we can go back soon!
Our time with Russell in Nosara was second to none. The accommodations were 1st class all the way. We stayed in a charming villa in a gated section with full security. It had it's own kitchen, porch and pool. Russell made sure our fridge was stocked full of what we wanted to eat the whole time. It was very close to the beach, which brings me to my next point, the beach is magnificent. It's a world class break that you could set your watch to. The instructions were top notch, and the entire trip was a blast. Looking forward to coming back next year!
We wanted an inclusive tour of the many beautiful beaches and surf breaks there in Costa Rica, we got so much more. Based out of Nosara, Russ brought us to new challenging breaks almost everyday. When we weren't exploring new breaks we would hit the stellar waves at Guiones right there in Nosara in addition to exploring the local atttactions such as ziplining, ATV/quad tours, river kayaking, and beachside horseback riding. When we were sufficiently sore and tired from the days activities Russ would have afternoon massages set up to help unwind. Throughout the trip Russ was attentive, punctual, laid back, and an encyclopedia of local knowledge. Thank you for an awesome vacation, we can't wait to get back. Pura Vida!
Just got back from our very first trip to Costa Rica after choosing Costa Rica Surfing Company. Russell was great and took care of setting up an incredible family trip, we enjoyed surfing, zip lining, massages, and a quad tour. The poolside villa was very relaxing and the kids enjoyed the waterfall and zero entry pool. Russell gives very good surf instructions and takes you to a variety of surf breaks. He takes the time to assess your skill level and focuses on increasing your form and balance. Russell is very familiar with the area of Nosara and offers great advice for meals if you choose to eat out at night. We choose to have him stock our refrigerator with breakfast and lunch supplies and ate meals out each night. He truly offers an all inclusive vacation and we cannot wait to go back to Nosara.